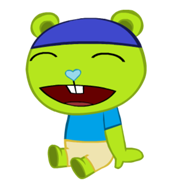 Britton is a bear, who disguised himself until now. Britton knows a lot about video games.
Britton only kills criminals intentionally. He killed Evil Flippy when he was split from Good Flippy, a psycho, and an evil bandit.
His family has very little appearences, so they don't have much injuries or deaths.
Britton can go hard on anyone who is evil. In fact, he's driven to capture and torture anybody who is evil.